New Arrivals
We keep increasing our inventory to offer you an even larger selection of quality furnishings.  Visit our store in Woodland Park, Colorado to view our newest items.
In Store Specials
It's hard to do better then our every day prices.  Check our one of a kind furniture pieces that we have specially priced to help make more room for our incoming furniture selections.
Best Price Guarantee
Williams Log Cabin Furniture offers you many outstanding values on the highest quality rustic, aspen, birch, and hickory wood furniture available.  Our low, everyday pricing means you'll get the furniture you want at a price everyone can afford.
Williams Log Furniture
Williams Log Cabin Furniture has been proudly furnishing local Woodland Park, Divide, Florissant & Colorado Springs homes, cabins, camps and lodges since 1995.  Our reputation is built on offering only the finest quality Colorado made log furniture and rustic decor while providing the best customer service found in our industry.
Bringing the natural and peaceful feel of mother nature to your home is easier to achieve when you use our wide selection of cabin furniture and rustic decor pieces to help you find what you want.  Combine our heirloom-quality rustic furniture with our fair prices and you will see why our customers rave that Williams Log Cabin Furniture is the place for log furniture!
We are adding additional furniture pieces to our showroom at 120 E. Midland Avenue in beautiful Woodland Park, Colorado every day.  Please be sure to stop by or watch for updates online.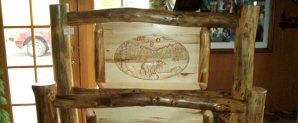 Bedroom
Williams Log Cabin Furniture continues a tradition of offering fine quality log and lodge style bedroom furniture at affordable prices.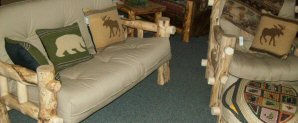 Living Room
From a single piece or an entire living room full of lodge style furniture with rustic country charm, you will love our living room furniture.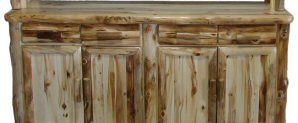 Kitchen
Looking for a special table and chairs for the breakfast nook? Or, perhaps bar stools, a beautiful hutch, or a kitchen island.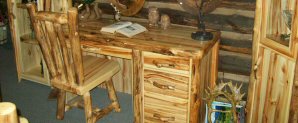 Office
A perfect addition to your office may be a beautiful aspen desk along with filing cabinets, and maybe an entertainment stand.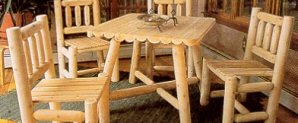 Outdoor Furniture
There is no better way to enjoy our Colorado outdoor lifestyle than sharing a cup of coffee or cool drink on your deck or patio sitting in our fine furniture.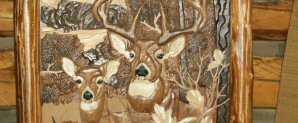 Accessories
Coat racks, wine racks, rustic figurines, table lamps, antler chandeliers, benches, bookcases, and much more to view.